Construction & Remodeling Services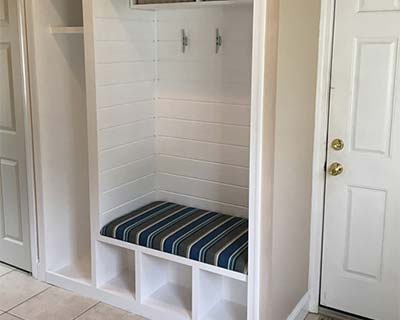 We at Lavender Construction LLC are a company with significant experience in the industry and can provide custom residential construction, remodeling and handymen services. Our expertise in the interior remodeling and handyman space is unparalleled in every way.
We are focused on providing our clients an outstanding building experience and ensure that we achieve the most energy-efficient and cost-effective solutions. Our company serves Annapolis, Edgewater, Davidsonville, Riva, Crownsville, Bowie, Severna Park, Arnold, Crofton and Stevensville, MD. The range of services we offer includes:
Construction
We handle all types of residential construction jobs and ensure that all the installations are carried out to industry standards. We can demolish internal walls and build new ones to alter the layout of these spaces. If you need any room additions or extensions, we can handle that job too. Our team works methodically and ensures that the construction work is completed to your expectations and that the new construction blends in perfectly with the older features. We handle small scale construction jobs as well as more complex ones and can create unique and long-lasting installations that will add to the beauty and value of your home. Read More About Construction >>
Carpentry
When it comes to house renovation or remodeling projects, carpentry is an integral part of them. We provide expert residential carpentry services and can also provide custom woodwork solutions. Ranging from kitchen cabinetry to living room furniture, closet and pantry storage to bar units and more, we can design and built it all. We use top quality materials in our work and ensure that our craftsmanship is outstanding. We have experience working with different types of hardwoods and softwoods, fixtures, hardware and finishes. Our team makes sure that every feature is designed, crafted and installed to industry standards. Read More About Carpentry >>
Dry Wall
Drywall us a very common installation on residential properties and many property owners feel that they would be able to handle the installation themselves. But the fact is that dry wall installation requires professional installation. There are different types of sheets available and every site is different. This also makes it necessary to have experts like us handling your dry wall design and installation job. Not only do we handle new installations, but also handle repair and sheet replacement jobs. In addition, our team also provides wall texturing and finishing solutions. These comprehensive services are a good way to ensure that the job gets completed seamlessly and on schedule. Read More About Dry Wall >>
Tape and Texture
If your drywall is showing signs of wear and tear or any kind of damage, simply contact us for all your repair or replacement needs. We can repair cracks and dings as well as holes in drywall sheeting. If a sheet is particularly damaged, we can replace that too. Once the repairs or new installation is complete, we also complete the taping work. This is essential to ensure that the drywall surfaces have a smooth and seamless appearance. We also offer excellent texturing services and can create unique surface finishes that help create a very distinctive look in the interior spaces of your home. Read More About Tape and Texture >>
Interior Painting
One of the best ways to add beauty to the interior areas of your home is to get a paint job done. We provide high-grade painting services and have the ability to create stunning finishes on walls, ceilings, and other areas of your home. Our customized services help ensure that you get superior interior painting solutions that are a class apart. We can create textured walls and accent surfaces based on your style and design preferences. Our experts can also provide color consultation services to help you make the best color choices for your walls. We use high-quality paints in our work, ensuring that the work is completed to industry standards. Read More About Interior Painting >>
Trim & Mill Work
Adding trim and millwork features to the indoor areas of your home is one of the best ways to uplift the appearance of your home without causing too much disruption or spending excessive amounts of money. Since the millwork is crafted at our workshop it helps reduce the amount of mess on your property when we come for the installation. You can choose from trim and millwork solutions such as chair rails, baseboards, wainscoting, cornices, windows, and doors as well as stair rails and more. Once all the features are in place, we can also make sure that the painting, staining, and finishing is completed as per your needs. Read More About Trim & Mill Work >>
Flooring Installation
If you are looking to make a drastic change to the indoor spaces of your home, flooring replacement is the one way to do it. There are different types of materials to choose from such as tile, natural stone, brick, cork, hardwood, laminate or carpet, vinyl, etc. We have the experience to handle all these different types of floor installation jobs. We use the best materials and technology in our work and make sure that you have resilient and durable floors that reflect your style and preferences. We also focus on aspects such as durability, ease of maintenance and longevity while handling any flooring installation projects. Read More About Flooring Installation >>
Home Remodels
If you are looking to alter the appearance of the indoor areas of your home, we can provide you with the best home remodeling solutions. We handle small-scale remodels such as minor alterations to kitchens and bathrooms as well as full-scale renovation and remodeling jobs. Our team is highly creative in their approach and can provide unique solutions that will be a perfect fit with various other features in your home. We make sure that the materials and finishes used in the home remodeling work create a cohesive look in the indoor areas of your home. We customize every aspect of our home remodeling solutions so that every space is designed exactly as you want it to be. Read More About Home Remodels >>
Kitchen Remodels
Kitchen remodeling jobs are best left to experts like us. This space sees excessive use and we make sure that every feature and installation in your kitchen is designed to provide years of trouble-free service for a number of years. We handle every aspect of your kitchen remodel including countertop installation, cabinetry design, and planning as well as lighting, gas and other plumbing services. We handle floor and wall tiling and all other masonry installations as well. Our creativity and skill go a long way in creating kitchen spaces that are functional, cheerful and a great complement to your beautiful home. Read More About Kitchen Remodels >>
Bathroom Remodels
Our company provides custom bathroom remodeling services and we make sure that all the installations and features are resilient and moisture-resistant. We handle everything from the tiling and drywall, vanity cabinet installations, to ventilation, window and door installations as well as storage options. We help you choose the best installations and fixtures to create long-lasting bathrooms that are as functional and comfortable as you want them to be. We make sure that high-quality materials are used in the work and that your bathroom remodels adds to the overall resale value to your home. Read More About Bathroom Remodels >>
Handyman Services
Maintaining the various features and installations in your home involves a lot of time and effort. But it isn't uncommon for fixtures to come loose, features to wear over time, the paint to fade or certain installations to become damaged or deteriorate too. The best way to make sure that all of the installations in your house stay in a good condition at all times is to hire us for all your handyman needs. We have the skills as well as experience required to provide custom handyman services at very cost-effective pricing. We use the latest tools and techniques in our work and make sure that all the work is completed to your satisfaction, in a highly cost-effective manner. Read More About Handyman Services >>
If you need any kind of residential construction work done in Maryland, Lavender Construction LLC is the company that can provide tailored solutions. For any more information about our services and queries about construction cost, feel free to contact us at 410-279-6581. You also have the option to send us your requests or project details via this Contact Us form and one of our experts will call you shortly.
We Provide Services to the Following Cities, Towns and Surrounding Regions of MD: